Modernize Access to Justice in a Few Clicks
The complete communication and payment platform for courts and law enforcement.
Improve failure-to-appear rates.
Remind defendants about upcoming court dates.
Missed court appearances are costly for courts, law enforcement, crime survivors, and people accused of crimes. Court reminders are the only evidence-based method of improving court appearance rates.
Send timely and personalized multilingual court reminders via texts, emails, and calls.
Provide details about in-person, remote, and hybrid hearings.
Monitor the delivery and opening status of messages in real time.
Increase payment collections.
Accept online payments for outstanding fines and fees.
Replace in-person and legacy portals with an accessible and multilingual payment platform.
Send payment reminders through text, email, and calls.
Accept payments via secure, user-friendly online portals.
Offer convenience options for partial payments and pay plans.
Keep people safe during emergencies.
Send multilingual emergency alerts to everyone who needs to know.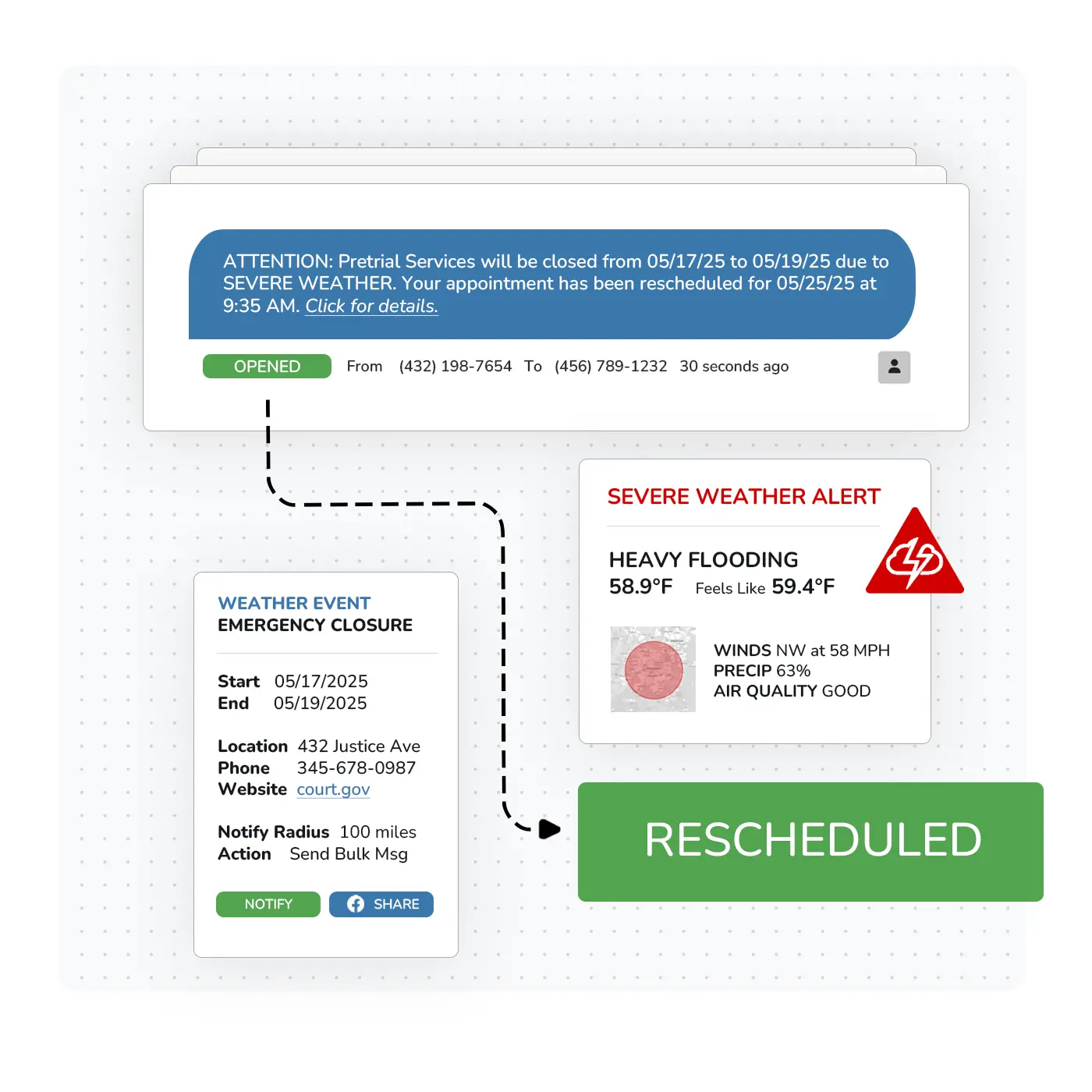 Send targeted mass notifications about severe weather, security incidents, or other fast-changing emergencies.
Disseminate mass alerts through texts, emails, and calls.
Launch an emergency portal to provide accessible resources.
Follow up with ongoing updates to keep everyone in the loop.
Design social media posts for broader reach.
Learn about Emergency Alerts
Streamline juror management.
Coordinate questionnaires, group scheduling, and mass notifications to handle a large number of jurors effectively.
Provide online juror enrollment and questionnaires accessible from any device.
Flexible payment options are available for juror compensation.
Increase juror appearance rates with automated reminders.
Easily resolve juror questions with two-way communication and dedicated phone numbers.
Keep victims informed.
Send multilingual messages informing victims about their rights, upcoming court dates, case status, and custody changes.
Notify individual, business, and law enforcement agency victims through every stage of the case.
Provide a secure web portal to review messages, manage documents, find resources, check case status, and view events.
Notify and support victims with automated and two-way communication, including those without a cell plan or access to a safe device.
Improve victim and community safety.
Automate victim notifications for upcoming events and changes from any authorized device.
Learn about Jury Management
Improve decision making with data dashboards.
Make evidence-based decisions through analytical dashboards with visual, customizable metrics.
Launch real-time accessible dashboards with interactive visualization and analytical features.
Private, public, and restricted access options can be applied to control access.
The intuitive interface is easy to learn, so little training is needed to get started right away.
Create visual reports and studies that standardize data from multiple sources into one place.
Apply granular filters, including case type, judge, location, and any keywords.
Integrate and post public information to social media channels.
The eCourtDate system will "revolutionize the Jefferson County Prosecuting Attorney's Office and its ability to contact victims with important information, specifically notification of court dates."